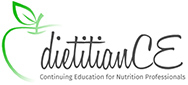 No Longer In Operation
We regret to inform you that DietitianCE is no longer in operation. We understand that this announcement may come as a disappointment, and we sincerely apologize for any inconvenience this may cause. Our journey together has been enriching, and we are grateful for the trust you have placed in us to support your learning and development goals.
Please be assured that our commitment to serving you remains strong, even in these final moments. If you are an existing customer and have any questions or require assistance, our support team will be available to help you for a limited period by using the support option at the bottom of the page.
We wish you all the best in your future educational endeavors.